Thorough Clean-up Made Easy with Bridgwater Skip Hire Services by Towens
June 4, 2023|News
Are you looking for a convenient and efficient solution to dispose of waste, rubbish, or debris from your home or business in Bridgwater? Look no further than Towens' skip hire services. With affordable prices, easy online booking, and reliable delivery and collection, Towens provides a hassle-free experience for waste management in Bridgwater. Whether you have a small garden project or a large home renovation, Towens offers a wide range of skip sizes, ensuring that your waste disposal needs are met efficiently. In this article, we will explore the various benefits and services offered by Towens' skip hire in Bridgwater, highlighting their commitment to eco-friendly waste disposal practices.
Towens' Skip Hire Services in Bridgwater
Towens, a renowned waste management company, offers comprehensive skip hire services in Bridgwater. Our years of experience and dedication to customer satisfaction have made them a trusted name in the industry. Whether you are a homeowner or a business owner, Towens has a range of skip sizes to accommodate your specific requirements. From small garden clean-ups to large-scale construction projects, Towens has the perfect skip to help you efficiently manage waste.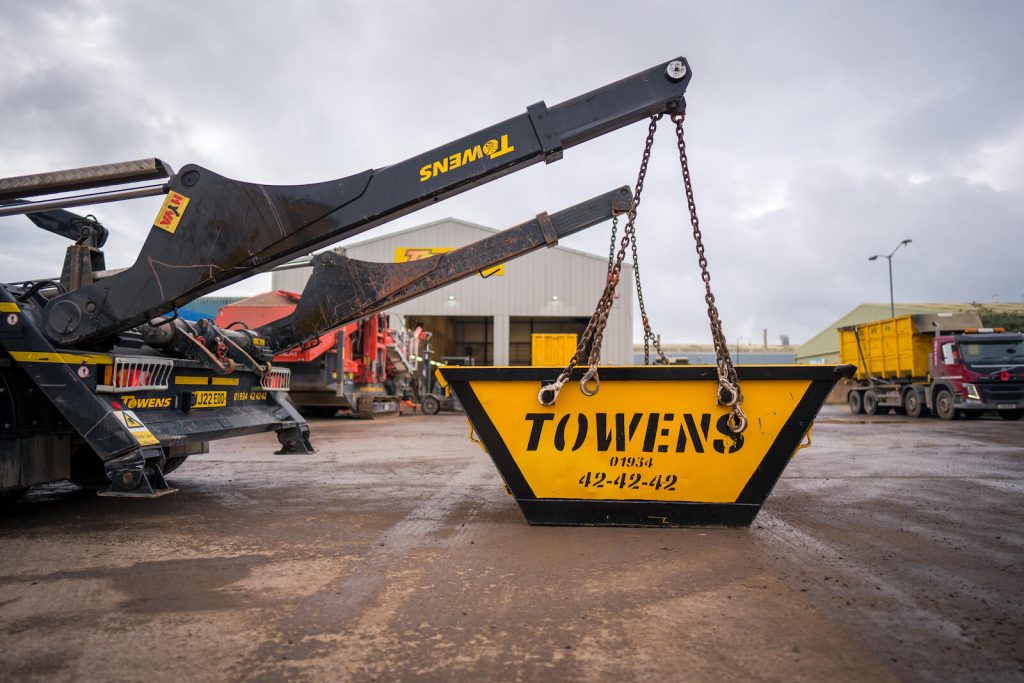 Range of Skip Sizes and Options
Towens understands that waste disposal needs can vary greatly, which is why we provide a diverse range of skip sizes. Our skips range from 4 yards to 16 yards, ensuring that there is an appropriate option for every project. Additionally, Towens offers both standard and enclosed skip options, providing added security for your waste.
Easy Online Booking and Delivery
Booking a skip with Towens in Bridgwater is a seamless and convenient process. With our user-friendly online platform, you can easily select the skip size that suits your needs, choose the desired delivery date, and make the necessary arrangements. Towens ensures prompt and reliable delivery of skips, allowing you to focus on your clean-up without any delays or hassles.
Eco-Friendly Waste Disposal
Towens takes environmental responsibility seriously and prioritizes eco-friendly waste disposal practices. When you hire a skip from Towens, you can have peace of mind knowing that your waste will be handled in an environmentally conscious manner. We have established partnerships with licensed recycling facilities to ensure that waste is recycled whenever possible, reducing the impact on the environment.
Serving Local Areas in Bridgwater
Towens' skip hire services extend to various local areas in Bridgwater, catering to the waste management needs of a wide range of customers. We offer popular skip sizes such as 2, 4, 6, 8, or 12 yards, which can be conveniently booked online. Whether you are located in the heart of Bridgwater or its surrounding areas, Towens is ready to assist you with our reliable skip hire services.
Towens' skip hire services in Bridgwater provide a convenient and efficient solution for waste disposal needs. With a wide range of skip sizes, easy online booking, and eco-friendly waste management practices, Towens ensures a stress-free experience for their customers. Whether you are tackling a small garden project or a major home renovation, Towens' commitment to excellence and customer satisfaction makes them a reliable choice for skip hire in Bridgwater. Contact us today and experience the convenience of our skip hire services